You might think the most challenging mountain climbing adventure in New England is Mount Washington in New Hampshire. You would be wrong. It's actually in Foster, R.I.
New England's high points are the subject of much lore and controversy. Henry David Thoreau climbed two of them. They've inspired literary works by authors from Nathaniel Hawthorne to J.K Rowling. One has a potato named after it. Another was supposed to be the place where God appeared in 1851.
Here are the six highest points in each New England state, and the stories that go with them.
Mount Frissell
Despite its location near the tony towns of Great Barrington, Mass., and Salisbury, Conn., Mount Frissell is the Rodney Dangerfield of mountains.
It just doesn't get any respect.
Though the highest point in Connecticut is on Mount Frissell, Mount Frissell's summit is in Massachusetts. And getting to Connecticut's high point on Mount Frissell requires climbing up two mountains, then climbing down to the high point.
Plus the trail to the summit of Mount Frissell is near a point more interesting to some: the New York-Connecticut-Massachusetts tri-state marker.
Bear Mountain gets more respect than Mount Frissell because it's the highest summit in Connecticut. Not only is it climbed more, but it's on the Appalachian Trail. Some call it the fake Connecticut high point.  Bear Mountain's summit is 2,316 feet -- 64 feet lower than the south slope of Frissell, which is 137 feet lower than Frissell's summit.
Mount Katahdin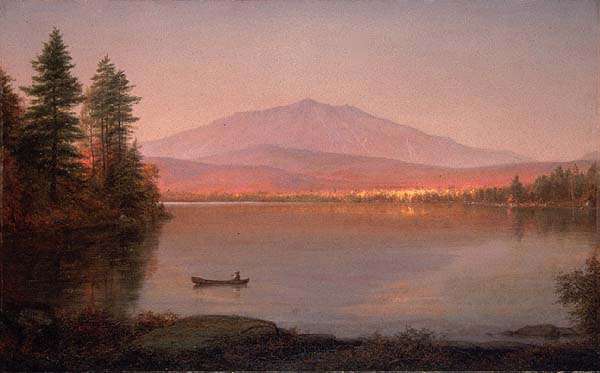 Mount Katahdin near Millinocket, Maine, is only the 22nd highest state peak in America, but lately it's been the most controversial.
In August 2016, President Obama issued an executive order naming the 'Katahdin Woods and Waters National Monument,' and giving it National Park Service protection. (Katahdin itself is in Baxter State Park.) The land for the park was donated by Roxane Quimby, founder of Burt's Bees.
Locals are divided on whether the park designation is a good idea.  Many oppose it. They'd like to see the forest industry return to their depressed region. Others think it will attract a new industry: tourism.
Whatever the case, Katahdin was named the second best summit hike by National Geographic. Not because of its height or difficulty, but because it's "the most inspiring peak in all of eastern North America."
After Henry David Thoreau scaled it in 1846, he wrote, "This was the Earth of which we have heard, made out of Chaos and Old Night."
Katahdin made another literary appearance in the novel A Separate Peace by John Knowles. The narrator, Gene, talks about his friend sleeping on top of Mount Katahdin, where "each morning the sun first strikes United States territory."
Katahdin also has a potato named after it and ends the Appalachian Trail.
Mount Greylock
You can see five states from the summit of Mount Greylock in Adams, Mass.: Massachusetts, of course, Vermont, New Hampshire, Connecticut and New York.
Harry Potter author J.K. Rowling put a school of wizardry atop Mount Greylock in her 2016 story, the Ilvermorny School of Witchcraft and Wizardry. It can be read on her Pottermore website.
Mount Greylock also inspired Nathaniel Hawthorne to write The Unpardonable Sin. The snow-covered mountain reminded Herman Melville of a great white sperm whale, which he named Moby Dick in his masterpiece. Thoreau wrote about his climb in A Week on the Concord and Merrimack Rivers.
The mountain may have been named after an Indian chief, Gray Lock, who raided English settlements in Vermont and western Massachusetts during the last French and Indian war. Or it may have been named for the gray clouds that hover at its summit.
Greylock has extensive stands of old growth red spruce, and it's an important bird area with 132 species of birds recorded on it. For more about recreation on Mount Greylock, click here.
Mount Washington
On a clear day, the view from the summit of Mt. Washington stretches 130 miles, to the Atlantic Ocean in the east and Lake Champlain in the west.
Today New Hampshirites proudly claim Mount Washington as the home of the world's worst weather. On April 12, 1934, a wind speed of 231 mph was recorded on its summit, which is in Sargent's Purchase.
In 1851, John Coffin Nazro made a bigger claim for New England's tallest peak. Nazro, a devout Christian, announced that God would be appearing at the top of Mount Washington on July 4, 1851. He renamed it Temple Heights to signify its role as home to a new religious movement.
All it did was rain on that day. People who had come to see God told Nazro what they thought of him. Nazro gave up his religious movement and joined the Navy.
The Abenaki Indians also believed that the top of the mountain was a holy site. They declined to climb it in the belief that they would be punished with death if they did.
The first car to climb Mount Washington was a Stanley Steamer on Aug. 31, 1899. Co-inventor Freelan O. Stanley and his wife Flora drove to the peak in one of the earliest publicity stunts in the automotive industry.
For more about things to do on Mount Washington, click here.
Jerimoth Hill
No, the highest point in Rhode Island is not the 550-foot-high Rhode Island state landfill in Johnston.
It's Jerimoth Hill, all 812 feet of it, in Foster, R.I. Some say it used to offer the most challenging climbing adventure in New England. The Highpointers Club, a national mounting climbing group, called it 'America's most inaccessible high point.'
The peak of Jerimoth Hill was owned by Brown University, which used it as an astronomy observatory location. The trail leading up to it, though, is on land once owned by a man who didn't appreciate hikers traipsing across his property. Music teacher Henry P. Richardson posted signs saying, "Trespassing is a violation we take seriously."
Richardson was said to have a secret security system on his property. He enlisted a neighbor to report on any trespassers. One hiker returned from the summit of Jerimoth Hill to find his tires slashed, another said Richardson had tried to take his camera and another claimed Richardson fired a warning shot with a shotgun.
In 2002, the Providence Journal suggested a solution to frustrated highpointers who couldn't climb Jerimoth Hill: Shovel some dirt onto 805-foot Durfee Hill in Glocester to make it higher than Jerimoth.
By 1999 the Highpointers Club negotiated four access dates a year with a friend of Richardson. Richardson died in 2001. The new owners opened the access trail on weekends.
The state bought Jerimoth Hill from Brown in 2014, and today you can climb it undisturbed by shotgun blasts. But manage your expectations. Jerimoth Hill is heavily wooded, has no views at all, and is only about five feet higher than the highway.
You might think Rhode Island has the lowest high point in the country. You would be wrong. Jerimoth Hill ranks only the 46th.
The distinction belongs to New England's honorary state, Florida, which is lower even than the District of Columbia.
Mount Mansfield
From Stowe, Vermont, look toward Mount Mansfield and you may see a reclining giant's face. Many a climber has tried to distinguish the giant's chin, nose and forehead. The chin is the tallest point.
According to a Stowe newspaper in 1858, a giant was walking north and, "being fatigued with his journey, as night came on he laid him down to sleep, and unfortunately, he has never since awoke, but like the giant Rip Van Winkle sleeps on."
The effort to make Mount Mansfield a regional mascot may have been spurred by competition with New Hampshire's Old Man in the Mountain. In the mid 19th century, Daniel Webster famously popularized the Old Man with the words:  "God Almighty has hung out a sign to show that there He makes men."
A small monument can be found along the summit. A cairn called Frenchman's Pile marks the spot where a man was struck and killed by lightning many years ago.
Photos: Mount Washington By wwoods - Own work, CC BY-SA 3.0, https://commons.wikimedia.org/w/index.php?curid=1539623; Mount Greylock By Ericshawwhite - Own work, CC BY-SA 3.0, https://commons.wikimedia.org/w/index.php?curid=28407006; Jerimoth Hill By Fredlyfish4 - Own work, CC BY-SA 3.0, https://commons.wikimedia.org/w/index.php?curid=19337222.