When the 18
th
Amendment to the Constitution took effect on January 17, 1920, New England's taverns suddenly became speakeasies.
Law enforcement couldn't keep up, and liquor and beer were easy to find. Many old New England homes, drugstores, restaurants and shops were once speakeasies.
Alcohol was poured on the sly in hotel basements, in curtained restaurant nooks, in bars that straddled the Canadian border and in commercial buildings turned speakeasies.
Here are six former speakeasies in New England you can now visit – and in five of them, you can order a cocktail. Legally.
TK's American Café, Danbury, Conn.
Connecticut did not ratify the 18th Amendment, and it didn't take long to realize the law was honored more in the breach than the observance. People could easily get booze from rumrunners or stills within the state. By October 1921, the state Prohibition director estimated there were 1,500 speakeasies in Connecticut, 400 in New Haven alone.
Speakeasies flourished in Danbury as well.  TK's American Cafe was originally built as a car dealership in 1928, but became a speakeasy. When the Volstead Act was repealed, it became the Hat City's first legitimate bar. Called Bennie Pane's Stone Bar, it morphed into Pane's Restaurant in 1937 and was the first to serve pizza. In 1948 it changed hands for the first of five times.
Tom Kennedy opened the old speakeasy as a sports bar in 1990, and struggled to keep it afloat until he offered 10-cent wings on Tuesday nights. Patrons say it hasn't changed much – except for the televisions – since it was Bennie Pane's.
It's at 255 White St. in Danbury.
Bramhall, Portland
Since Maine was the first state to outlaw alcohol, Mainers were the first to flout the ban. The rest of the country didn't learn from Maine's example. Drinking was driven underground and crime flourished. Taverns became speakeasies, bootleggers smuggled spirits over the Canadian border and rum runners brought them in by sea. Immigrants made and sold alcohol from their kitchens, and farmers made it from secret stills.
The Old Port District, then as now, was a haven for the thirsty public. The Congress Street bar now known as Bramhall was a Portland sanctuary favored by scofflaws during the wild days of Prohibition.
It is a dim, brick-lined stone vault with little natural light. For years it was a basement pub under The Roma Café, now defunct. Bramhall has been refurbished and reopened as a modern speakeasy with a reasonably priced menu.
Find Bramhall at 769 Congress St.
Hotel Vernon, Worcester, Mass.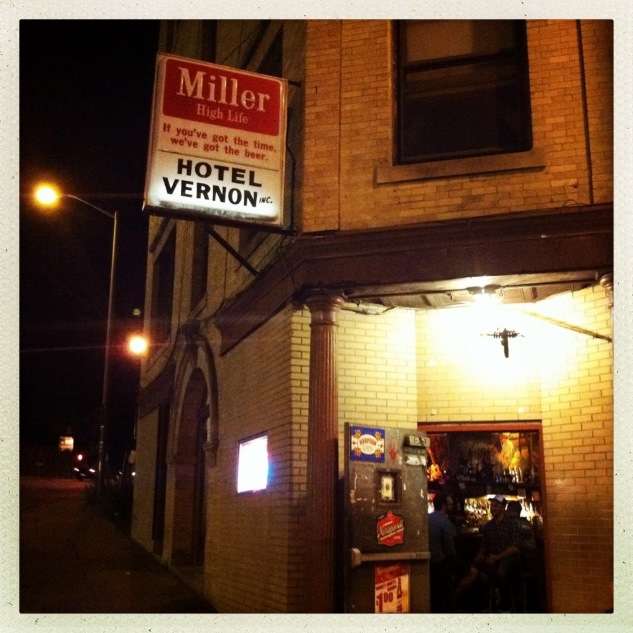 January 15, 1920 was the Eve of Prohibition. Worcester, Mass., celebrated the death of John Barleycorn with raucous partying. Saloons were jammed and parties were hosted in hundreds of homes. Most establishments stopped serving liquor at midnight if they hadn't run out already.
The party kept going surreptitiously throughout the city, including and especially at the Hotel Vernon on Kelley Square. Two brothers owned it, Frank "Bossy" McGady, a state trooper, and Beaven McGady.
Down a long wooden staircase the hotel served liquor at its hideaway speakeasy, where no one was ever caught. There was a secret entrance, and "Madame Rhubarb" was the password to get through it. Babe Ruth often stopped in for a drink or two.
Just after the end of Prohibition, an artist painted around the hotel bar a mural based on Samuel Taylor Coleridge's poem "The Rime of the Ancient Mariner." A backroom was added, decorated like a schooner galley and named "The Kelley Square Yacht Club." Henry Mancini and Burl Ives visited during the '40s and '50s, and reservations were sometimes needed two weeks in advance. (A tour of the Hotel Vernon was taped in 2010; watch it here.)
The construction of I-290 transformed the neighborhood, not for the better. The Hotel Vernon became a residential hotel and dive bar. Today you can get $1 drafts, free peanuts and a tour of the speakeasy in the basement if the bartender isn't too busy.
Hotel Vernon is at 1 Millbury St.
Cave, Bretton Woods, N.H.
Liquor was still legal in Canada and times were hard in Northern New England during Prohibition, so the incentive to smuggle alcohol was strong. Bootleggers brought in illegal booze from Canada along the dark, unguarded wooded roads crossing the Canadian border into New Hampshire, Vermont and Maine.
A popular speakeasy among Boston's elite was in The Cave, a subterranean vault in the cellar of the Mount Washington Hotel, which famously hosted the Bretton Woods Conference in 1944. Patrons drank booze out of teacups. According to legend, Joseph P. Kennedy sold bootleg liquor to the hotel, now known as the Omni Mount Washington Resort.
The Cave was originally set up as squash courts. During Prohibition, the hotel turned them into a speakeasy with a pull-down false ceiling. In the event of a raid, an alarm sounded, the booze would be stuffed in the ceiling and a game of squash would hurriedly start.
 Cave is now open from 9 pm to midnight with a late-night menu, televised sports and occasional entertainment.
The Mount Washington resort is hard to miss in Bretton Woods, but its official address is 310 Mount Washington Rd.
Camille's Roman Garden, Providence
Camille's Roman Garden opened the year before Prohibition as Marconi's, after the inventor of the wireless.  It spent its first five years on Atwells Avenue then moved around the corner to a 19th century mansion on Bradford Street near the entrance to Federal Hill.
Rhode Island, like Connecticut, didn't ratify the 18th Amendment, and, like the rest of New England, it pretty much ignored the ban on spirits. Camille's put curtains on the private alcoves that ring the dining area. Illegal booze was made in the cellar and served in coffee cups to patrons seated in the alcoves.
It's the oldest continuously operated restaurant in Rhode Island and the second-oldest family-owned restaurant in the United States.
Frank Sinatra was especially fond of Camille's Italian wedding soup, and once burped on stage in Providence and said, ""Excuse me, but I just had the most wonderful food at Camille's Roman Garden."
Camille's is now an Italian restaurant serving seafood. The owner sold it in 2001, and expected the buyer to demolish it. Instead, Camille's was renovated and now serves fine Italian food.
Find Camille's at 71 Bradford St.
Canaan Line House, Canaan, Vt.
Vermont was never dry, it was damp. Illegal liquor was routinely supplied by rum runners on Lake Champlain and bootleggers from over the Canadian border.
It used to take an hour to get through St. Albans because so many people were drinking in restaurants, which either had booze in the back room or advised patrons where they could get it. Traffic was routinely jammed up by bootleggers and people seeking a good time at the line houses.
Queen Lill's Bucket of Blood in Richford was just one of the many line houses that dotted the Canadian border. The line houses were built to straddle the border between Vermont and Quebec, often with a front door in Vermont and a bar in Quebec.
One of the most well known was the Canaan Line House, on the border between Canaan and Saint-Herménégilde, Quebec. Today it's known as the Canaan-Hereford Road Border Crossing. The abandoned remains of the old Canaan Line House sit between the Canadian and U.S. Customs stations.