In January 1793, Bostonians raised a liberty pole at the intersection of Kilby, Water and Battersea streets.
But the Revolution was over. Why a liberty pole in 1793? And didn't Boston already have a Liberty Tree?
The liberty pole celebrated the news that the French were about to topple the monarchy and win their own liberte, egalite and fraternite.
Liberty Pole Party
And what a celebration it was. An ox was roasted and brought to the square, its horns mounted atop the 60-foot liberty pole that was hoisted to honor the French. A wagon brought 800 loaves of bread. Then came another loaded with hogsheads of strong punch.
The celebrants paraded through town to the homes of Gov. John Hancock and Lt. Gov. Sam Adams, where they raised a toast. The parade lasted all day and into the early morning hours. It was estimated that half the adult population of Boston was drunk that night.
The first liberty pole was erected in Rome after Julius Caesar was assassinated. The murder plot's leaders met a crowd of Romans at the Roman Forum; where someone placed a Phrygian cap from a freed slave on top of a pole to show the Romans were free from Caesar's tyranny. (A Phrygian cap is a soft, pointed cap with the tip bent forward.)
Dozens of colonial American towns erected liberty poles as a symbol of dissent against England. When the pole was capped with an ensign, usually a red cap or a flag, it meant the townspeople should assemble and vent their anger with the British government.
Putting up a liberty pole started trouble between patriots and loyalists. In Sandwich, Mass., loyalists took down the liberty pole while leading patriots were out of town. The patriots arrested them upon their return.
Liberty trees instead were dedicated in other towns, including Boston, Providence and Acton, Mass. A tall elm at the corner of Essex and Washington streets in Boston started as a rallying point against the Stamp Act for the Sons of Liberty.
Boston did have a liberty pole, though, during the Revolution. It was put up on Prospect Hill during the Siege of Boston. It was a 76-foot ship's mast that was taken from the British warship HMS Diana after the Battle of Chelsea Creek.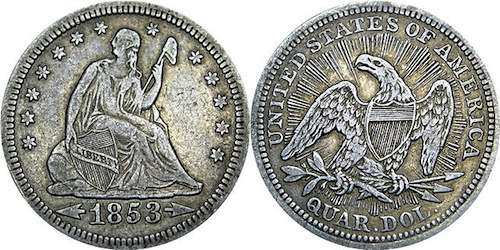 Many 19th century silver coins show a seated Liberty holding a pole with a Phrygian cap on top of it. They're known as United States Seated Liberty coinage.
The Town of Bedford, Mass., re-enacts the raising and capping of its liberty pole in an annual ceremony. Rochester, N.Y., lights its liberty pole at the beginning of every Christmas season.
This story was updated in 2017.