Robert Todd Lincoln was 78 years old when he attended the dedication of the Lincoln Memorial on May 30, 1922. He was joined by William Taft, chief justice of the U.S. Supreme Court, and President Warren G. Harding.
Taft, who headed the commission to build the Lincoln Memorial, presented it to President Warren G. Harding, who accepted it on behalf of the American people. Fifty thousand people attended the ceremony.
Lincoln had to be helped up the steps of the Lincoln Memorial to his seat in an honored place at the base of the statue.
President Abraham Lincoln's only surviving son had led a life of accomplishment. He served on Gen. Ulysses S. Grant's staff with the rank of captain during the last days of the Civil War, and was present at Appomattox. He practiced law, and was appointed U.S. ambassador to Great Britain and U.S. Secretary of War. He also served as general counsel and chairman of the board of the Pullman Palace Car Company. 
In 1905 he built a Georgian Revival mansion on a 412-acre estate in Manchester, Vt., called Hildene. It is now on the National Register of Historic Places and open daily (except for holidays) to visitors.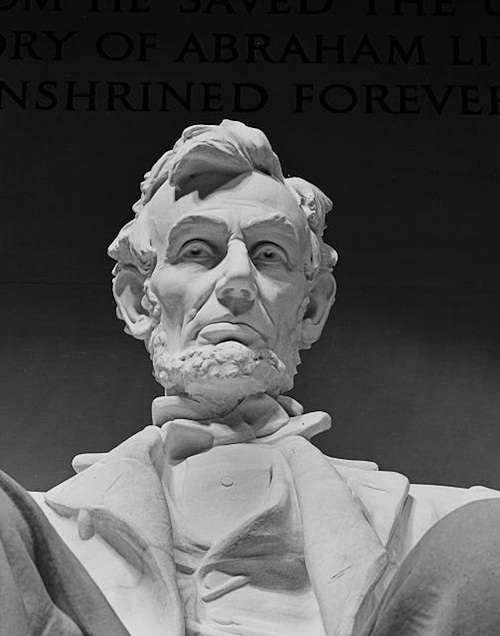 Daniel Chester French designed the sculpture of the seated Lincoln beginning in 1915. He and the architect, Henry Bacon, decided it should be 19 feet high and that Lincoln should be seated so people could see his face.
French made large plaster models of the statue in his studio in Stockbridge, Mass. He used Matthew Brady photos for reference and a life mask of Lincoln by Leonard Volk. His aim, he said, was 'to convey the mental and physical strength of the great President and his confidence in his ability to carry the thing through to a successful finish.' In 1918, renowned marble cutters, the Piccirilli Brothers, began carving the statue from 28 blocks of marble. French helped out, hammering and chiseling his own touches onto the stone.
The silent, brooding Lincoln who presides over the banks of the Potomac has perhaps become more than French dared hope: It is a shrine to the ideal of tolerance and reconciliation.
French's studio, Chesterwood, is also on the National Register of Historic Places. It opens to visitors for the season May 24, 2014.
Click here to see a video of scenes from the dedication ceremony.