Like George Washington, Frank Sinatra made many forays into New England over his long career. Unlike George Washington, Sinatra came to sing, dance and campaign for politicians.
Though he is identified more with Las Vegas, New York and Chicago, Sinatra's periodic visits to New England punctuate a generation of political, cultural and economic changes.
As a young crooner, Frankie Sinatra caused so much pandemonium among his bobby soxer fans that the management of the Boston Armory had to bolt down the seats. As a middle-aged superstar, he hosted his friend John F. Kennedy's pre-inaugural ball – after introducing him to Marilyn Monroe. As an old man, he croaked his way through his old standards at the Worcester Centrum and the Hartford Civic Center.
Sinatra, like New England, had many ups and downs during his lifetime.
Frank Sinatra, Crooner
In December 1943, girls stood in line before 8 am to hear 28-year-old "Frankie Swoonatra" at the RKO Boston Theatre. They started screaming when a sailor approached them with a white rat in his pocket. The police had to restore order when pandemonium broke out, and the girls went to the matinee concert.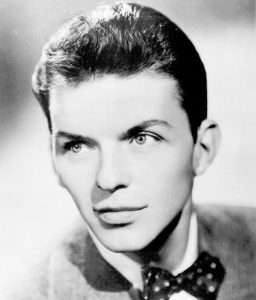 The next month, Frank Sinatra was singing at the RKO Theatre in front of Jan Savitt and his Top Hatters when Frank, Jr., was born. Millions of baby boomers would soon follow, along with Frank's two daughters.
Two girls from Chelsea, Mass., started a national Frank Sinatra fan club after listening to his Wednesday night radio broadcasts. . "We aren't the shrieky kind," said President Marie Delaney, adding they did constructive things such as sending money to a Chicago orphanage and mailing movie magazines to England.
Just before the presidential election in 1944, Sinatra and Orson Welles appeared at Fenway Park to rally for Franklin D. Roosevelt. Sinatra and Welles brought the house down, according to newspaper reports.
He was to appear at Symphony Hall in Boston later that month at a sold-out matinee with Arthur Fiedler. The concert was intended to attract a 'higher type of audience' and bring him closer to the so-called 'concert stage.' Fiedler was to have performed light classics and Sinatra was to have sung popular and standard tunes. Sinatra cancelled at the last minute because his voice was in bad shape.
When Sinatra came to play the Latin Quarter in Boston in 1953, he was on the comeback trail. His career had hit rock bottom, but he had just finished the film From Here to Eternity, for which he would win an Oscar. Still, he had fallen so far he was competing with Frankie Laine in the 'Battle of the Frankies.' Laine sang in the city's largest nightclub, Blinstrub's Village in South Boston.
Back on Top
By 1956, Sinatra was back on top, starring in the musical film High Society with Grace Kelly and Bing Crosby.  Interiors were filmed at a Newport mansion later purchased by Sunny von Bulow.Sinatra and Kelly appear driving together in a scene along Ocean Boulevard in Newport.
In 1960, Sinatra's Rat Pack turned into the Jack Pack, as the singer campaigned hard for John F. Kennedy for president of the United States. Sinatra would invite Kennedy to his shows in Las Vegas, bringing him on stage and then back to their hotel suites for post-concert parties. On the campaign trail, Kennedy spent two nights at Sinatra's Palm Springs home. Afterward, he put up a sign in his bedroom that said, "JFK Slept Here."
On Jan. 19, 1961: Frank Sinatra and Peter Lawford hosted Kennedy's pre-inaugural gala in Washington, D.C.
He sang at the Newport Jazz Festival in 1965, nine years after it started, with Quincy Jones and Count Basie. (You can listen to it here).
In 1971, Sinatra sang at the eight-year-old Hynes Convention Center in a tribute for Cambridge, Mass.-born comedian Frank Fontaine.
Another Comeback
In May 1975, 50-year-old Frank Sinatra creaked into the three-year-old Providence Civic Center in what was called another comeback concert. Tickets topped out at $15.
He'd come back again by Sept. 5, 1978, when the Boston Globe reported 'The Voice' held a press conference at Anthony's Pier 4 to endorse Kathleen Sullivan Alioto for U.S. Senate from Massachusetts. She was the daughter of Billy Sullivan, owner of the New England Patriots, and wife of San Francisco Mayor Joseph Alioto. Anthony's would soon become the highest grossing restaurant in the United States.
Sinatra said he'd played every hall in Boston except Symphony Hall, but wouldn't play the Boston Garden because the sound was so bad. (Paul Tsongas won the nomination and the Senate seat.)
On Oct. 28, 1979, the Boston Globe reported 'Ol' Blue Eyes' appeared with Dean Martin at a benefit concert for unannounced Republican presidential candidate Ronald Reagan.
Sinatra made his first New England appearance in the 1980s on Sept. 25, 1981, at the Hartford Civic Center. He began with I've Got the World on a String.
The remainder of his New England concerts were held at large civic auditoriums in Worcester, Hartford, Providence and Stamford.
On Sunday, April 26, 1987, 40 years after he cancelled that concert with Arthur Fiedler, Sinatra sang at Boston's Symphony Hall.
Francis Albert Sinatra died on May 14, 1998.