[jpshare]Hobey Baker achieved national stardom as a teen-ager who embodied the pre-World War I ideal of the gentleman athlete, but when that era ended it was all over for him.
He was rich, he was aristocratic, and he could have stepped out of a Charles Dana Gibson illustration with his square-jawed good looks.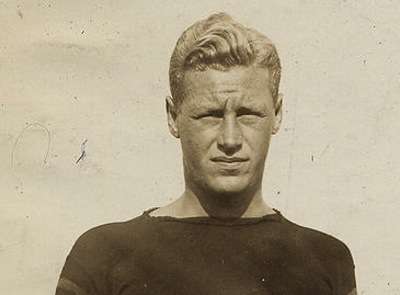 At 15, he was a hockey star at St. Paul's School when the prep school team was beating Harvard and Princeton in the early 20th century. At Princeton, he starred in hockey and football.
Hobey Baker is no doubt the only person who had a hockey arena, a hockey trophy and an F. Scott Fitzgerald character named after him. Fitzgerald, who was four years younger than Baker, worshipped him from afar at Princeton. Even as recently as 1984 a Boy's Life profile described him breathlessly as a civilized sportsman, 'thoroughly imbued with notions of fair play, decency, dignity, sacrifice and total dedication to the task at hand.'
Baker, a World War I fighter pilot, died mysteriously in a plane crash in France on Dec. 21, 1918 at 26. Some questioned whether he deliberately crashed his plane because life held no more promise for him after his youthful sporting exploits.
He somehow touched everyone he met. In 1963, Dr. Lay Martin, a Princeton classmate from the class of 1914, wrote in 1963, "It is strange that after all these years his memory still haunts me."
Good At Any Sport He Tried
Hobart Amory Hare "Hobey" Baker was born in 1892 to an old Main Line Philadelphia family. At 11, he and his brother were sent to St. Paul's School in Concord, N.H. St. Paul's at the time was a hockey powerhouse, having been one of the first schools to adopt the sport. According to school history, the first ice hockey game in America was played there on Nov. 17, 1883. At one time, there were nine hockey rinks on its Lower School Pond.
Hobey Baker was a fast and agile skater who was named to the varsity team at 14. He helped St. Paul's beat college hockey teams, but he was said to be good at any sport he tried: He scored in the low 40s on his first attempt at golf, and when he entered a cross-country race for fun he beat the school's better-trained track stars. He was one of the most popular students at St. Paul's.
He entered Princeton in 1910 and signed up for football, baseball and ice hockey. Philadelphia sportswriters were soon calling him the 'blond Adonis of the gridiron.' In 1911, when Princeton won the national hockey championship, Baker set a record yet to be broken: 13 punt returns for 63 yards in a football game against Yale. He also scored 92 points in one season, a record that held until 1974. In his senior year, he was (predictably) named captain of the football team. He won eight varsity letters, as many as were allowed at Princeton.
Hockey statistics weren't kept at the time, but his biographer estimates he averaged three goals and three assists per game. Oh, his grades were above average and he was known for his sportsmanship, visiting opposing teams' locker room after games to shake hands.
F. Scott Fitzgerald spoke to him once at Princeton. He named a minor character, Amory Blaine, after Baker in his novel, This Side of Paradise. And he was probably thinking of Baker when he described Tom Buchanan in The Great Gatsby as 'a national figure in a way, one of those men who reach such an acute limited excellence at twenty-one that everything afterwards savours of anti-climax.'
Hobey Baker graduated from Princeton and went to work for J.P. Morgan in New York City. He was not only bored, but embarrassed when executives brought clients by to see him. He still played ice hockey for an amateur team, and took up auto racing and polo. He confided to a reporter that he wished no one wrote anything about him. He was offered a contract to play for the Montreal Canadiens for $20,000, but he turned it down. Though he was making about $20 a week as a management trainee, people of his social standing did not become professional athletes.
World War I
In 1916 Hobey Baker joined the civilian air corps as World War I loomed. When the U.S. entered the war, he was one of the first
Americans to leave for Europe. After a frustratingly long training, he went to the front in January 1918. He was given the Croix de Guerre after his first kill and command of a squadron. When his squadron's planes finally arrived he had them painted in Princeton's black and orange. He had two more kills by the war's end.
He had been engaged to a socialite named Mimi Scott. She followed him to Europe as a nurse. But she broke off the engagement and began seeing a diplomat in Paris. By all accounts, he was heartbroken.
On Dec. 21, 1918, Hobey Baker received orders to return to the United States from his station in Toul, France. Dreading a return to an office, he decided to take one more flight – in a recently repaired plane. He took off in heavy rain and the engine died a quarter mile into the flight. His plane crashed nose first into the ground. He died in the ambulance minutes after he was freed from the plane.
Baker had told a classmate he felt his life was over. People began to speculate that his death hadn't been accidental. In his 1966 biography, The Legend of Hobey Baker, John Davies mentioned the suicide theory of his death, but refused to delve into it as he feared 'the old guard would be furious.'
The Redolent Remembrance
The tragedy of Hobey Baker may have been that his entire academic career prepared him for something his social standing forbade: professional sports.
In Boston, he was the first hockey superstar even without playing professionally. He had played the Boston Arena many times as a college and amateur player. Broadcaster Fred Hoey said crowds came to the arena just to see Baker.
In 1962, 42 years after his death, columnist George Frazier wrote,
Always at college hockey games, I am haunted by the redolent remembrance' of Hobey Baker. He would start up the ice like some winged messenger out of mythology, as fleet and godlike as any of them, his bright birthright a blazing little blur, and for a lovely little while God was in his heaven and the puck, more than likely, in the other team's net.
The Hobey Baker Award was established in 1981 to honor one collegiate hockey player every year who demonstrate the same qualities of athletic excellence and sportsmanship Baker possessed.
With thanks to Emil Salvini, author of Hobey Baker,  American Legend. This story was updated from the 2014 version.