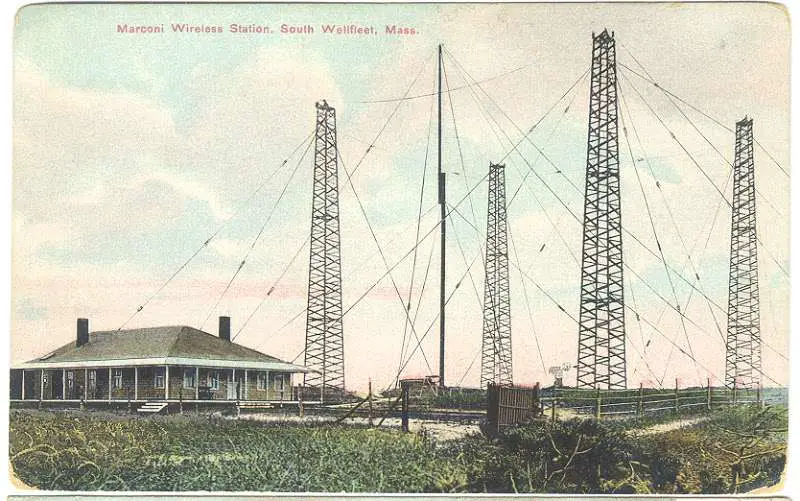 Guglielmo Marconi overcame distrust, animosity and nor'easters to send the first wireless transmission across the Atlantic from the United States.
On Jan. 18, 1903, his South Wellfleet station sent a greeting from President Theodore Roosevelt to King Edward VII of the United Kingdom. It was the first radio transmission to cross the Atlantic from the United States.
When the RMS Titanic sent distress signals in 1912, Marconi's invention played a key role in rescuing its passengers.
In 1903, Marconi was a 29-year-old Italian nobleman who had sent radio transmissions from Nova Scotia to his station in Cornwall, England. Now he wanted to send them from the United States.
He aimed to transmit news and private messages to ships sailing the Atlantic that paid for the service.
Young Marconi
Born April 25, 1874, he made his first wireless transmission at the age of 20 by making a bell ring across a room. He gradually figured out how to send wireless signals over longer and longer distances. Within 10 years he was sending them across the Atlantic.
After his successful bell experiment, he went outside on his father's estate, and transmitted signals over a distance of a mile and a half.
He then moved to England with his mother, where he managed to send a signal 3.7 miles over Salisbury Plain in March 1897. Two years later, his signal crossed the English Channel. He then went to the United States to demonstrate his wireless signal, sending reports of the America's Cup race off Sandy Hook, N.J., to the New York Herald.
In December 1902, Marconi sent a signal from a station in Glace Bay, Nova Scotia, to his station in Cornwall, England, the first radio transmission to cross the Atlantic from North America.
He was already building a wireless station in the United States to compete with the undersea cables that crossed the Atlantic.
The Marconi system included five elements: A radio transmitter that produced a spark; a wire antenna placed high above the ground; a coherer receiver, also an antenna high above the ground; a telegraph key to send out short and long pulses through the transmitter and a telegraph register to record the Morse code transmission through the coherer.
South Wellfleet
He had spent months hunting for the right land to build his first U.S. station along the coasts of New York, Rhode Island, Connecticut and Massachusetts. He looked for a remote spot, but not too far from drinking water, labor, supplies, a rail line and a hotel.
In February 1901, Marconi arrived in Provincetown with his assistants. A Cape Codder named Ed Cook showed them around in his wagon. Cook was a wrecker, someone who salvaged shipwrecks.
When Cook took him to Highland Light in North Truro, Marconi believed he found his spot. But the locals thought Marconi was a charlatan and refused to sell him land.
Next they went to South Wellfleet, where Marconi found an eight-acre parcel of land on top of a 130-foot cliff. Wellfleet Harbor was nearby, and so was a railroad station and a telegraph office.
Cook owned the land. Marconi bought it from him for a song, then made him general contractor. While laying plans for the station, Marconi stayed at a nearby inn, but thought the food was awful. He earned a lasting reputation among the locals as a snob because he had food and wine shipped from Boston and New York.
Marconi left Richard Vyvyan to supervise construction of an array of antennae mounted on 20 200-foot masts.
Men called riggers built the masts as they swayed in the slightest breeze. The locals predicted the masts wouldn't withstand the first Atlantic storm. Vyvyan didn't think the masts would last either. They were right.
The station included cottages, a transmitter building and a kerosene engine that generated 25,000 volts of electricity, enough to send a signal to Cornwall. When it was finally finished, the transmitter sent off such a spark it could be seen four miles away. It made a sharp, deafening crack that forced workers to cover their ears. The electricity escaped through drainpipes and stove flues, even the clothesline. The housekeeper grew used to getting a shock when she hung up the washing.
In late November, a nor'easter struck Cape Cod and toppled the masts, nearly killing Richard Vyvyan as one fell three feet away from him. Another crashed through the roof of the transmitting room.
Success, And a Rescue
Marconi decided to rebuild the station, with four 210-foot towers that supported the antennae. By January 1903, it was ready.
A message from President Theodore Roosevelt was sent:
His Magesty, Edward VII, London, England.

In taking advantage of the wonderful triumph of scientific research and ingenuity which has been achieved in perfecting a system of wireless telelgraphy, I extend on behalf of American people most cordial greetings and good wishes to you and all the people of the British Empire.

Theodore Roosevelt
South Wellfleet, Massachustts, Jan. 19, 1903
King Edward repied:
The President, White House, Wash., America.

I thank you most sincerely for the kind message which I have just received from you through Marconi's transatlantic wireless telegraph. I sincrerely reciprocate in the name of the people of the British Empire the cordial greetings and friendly sentiment exprssed by you on behalf of the American nation, and I heartily wish you and your country every possible prosperity.

Edward R. and I.
Sandringham, Jan 19, 1903
Marconi raced to notify the press, and congratulations poured into Cape Cod. The staff of the station celebrated with a dinner of roast goose.
Marconi realized the South Wellfleet station was unstable, and built a new station in Chatham. It was from there that Marconi's operators received distress signals from the Titanic and notified the Carpathian to rescue the passengers. After an inquiry into the tragedy was held, the U.K.'s postmaster-general concluded, "Those who have been saved, have been saved through one man, Mr. Marconi...and his marvelous invention."
Today, little is left of the Wellfleet station. Its four 210-foot towers and 20 mast-like antennae, its boiler house, its generating equipment and transmitter. Much of it was dismantled during World War I as a security measure. Much of the rest was claimed by the sea. The site is now part of the Cape Cod National Seashore and listed on the National Register of Historic Places.
Photo of the remains of the Marconi Station in Wellfleet by Flffy'd. Licensed under Public Domain via Commons. With thanks to Thunderstruck by Erik Larson.