New England's first Thanksgiving, at least the one celebrated by European colonists, wasn't in Plymouth, Mass.
The American Indians had held harvest celebrations of their own long before the Europeans ever arrived.
And when they did arrive, they held the first Thanksgiving in 1607 in Popham, Maine.
First Thanksgiving
The Popham Colony – a year-long effort to establish a British colony in Phippsburg, Maine at the mouth of the Kennebec River – began in the summer of 1607 and ended a year later in 1608. For one harsh winter a group of English settlers tried to stick it out at a small fortification they constructed.
During that winter the group suffered a fire at its storehouse. Its president, George Popham, died, and so did several others in the group.
The colony also struggled because its leadership did not establish strong enough relations with the local Native Americans, who might have helped the settlers as they did in Plymouth. Nevertheless, there is a record of a 1607 feast  -- the first real Thanksgiving -- with the local Indians.
The historie of travaile into Virginia, by William Strachey, tells the story of that first Thanksgiving, Maine style.
Nahaniida
The Popham colonists had reached out to Nahaniida, a local Indian, and invited him to come with friends to visit the fort. In the entry for October 4, Strachey records:
There came two canoes to the fort, in which were Nahaniida and his wife, and Skidwares, and the Casshabaes brother, and one other called Amenquin, a Sagamo; all whom the president feasted and entertained with all kindness, both that day and the next, which being Sunday, the President carried them with him to the place of public prayers, which they were at both morning and evening, attending with great reverence and silence.
The Native Americans received gifts from the colonists. Following  the feast,   they returned up the river, which sheltered them from the elements. The Popham colonists, however, stayed in their small fort near the ocean, which left them exposed to a harsh winter.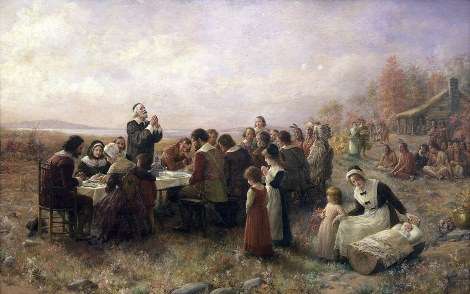 By spring, the colonists were ready to call it quits. Though the records indicate they had traded furs and found other natural resources, they had no will to remain.
When an English supply ship arrived, the remaining colonists – now leaderless – chose to return to England.
Thanks to: The Holiday Book by Martin Greif. This story was updated in 2017.