Chop suey sandwiches have marked the beginning of summer for generations of people who grew up on the North Shore of Massachusetts. Vendors once sold the beloved cheap treat throughout New England and as far south as Coney Island in New York.
They've been sold at the Salem Willows seaside park since the early 1900s. Now only one restaurant, Salem Lowe at the Willows, sells them.
The chop suey sandwich is a cheap and filling concoction of roast pork or chicken, onions, celery and bean sprouts cooked in a thickened soy gravy and served on a hamburger bun. They are not to be confused with the Fall River chow mein sandwich, which lack bean sprouts and, often, meat. Chow mein noodles are an option on the chop suey sandwich, but required on the chow mein sandwich.
The Salem Lowe restaurant serves the chop suey sandwich in bread rolled into a cone and wrapped in wax paper. According to the Roadfood blog, you have a choice of  your sandwich in a take-out container or in a paper cone. "The cones are designed for eating while strolling, which is what you should do," reports Roadfood.
"If there were a Nobel Prize for food stuffs, one would surely have been awarded to the culinary genius at Salem Lowe that created the chop suey sandwich," wrote one reviewer on Yelp. "Forget radiology, penicillin and world peace: this deliciously salty sandwich has done more for humanity than those things combined."
Chop Suey Sandwiches
Chinese immigrant cooks started restaurants and lunch wagons near mills, schools and amusement parks, tailoring their food to local tastes. Foods like chow mein and chop suey, with soft vegetables in a brown sauce, resembled Yankee cooking. Add bread and you had a cheap and filling Asian fusion food – also known as 'cheap Chinese.'
Salem Willows was an ideal location for the chop suey sandwich. It was developed around 1875, at the same time the Salem Willows resort community (now a historic district) was built. The park and the cottage district were named for the European white willow trees planted in 1801 along a walkway for smallpox patients at a nearby hospital.
Streetcars brought hordes of day trippers attracted by the beaches, the casino, the pavilion and the carousel. They flocked to Restaurant Row, where celebrated eateries served fresh seafood. One by one the eating places succumbed to fire and changing demographics.
The last restaurant on Restaurant Row closed in the 1960s, but Salem Lowe still serves chop suey sandwiches. (E.W. Hobbs also serves much- loved popcorn, but that's a story for another day.)
An online exhibit of Salem food linked to Salem State University dates Salem Lowe from ca. 1912. The reasoning: the menu refers to itself as a 'bill of fare,' a term not used after 1914. Salem, notes the author, played an important role in the old China trade, which began in 1783.
Nostalgia
Today, Salem Willows still has the carousel and several arcades, one containing a few rides. Two small beaches are popular for watching July 4th fireworks from Salem, Beverly and Marblehead.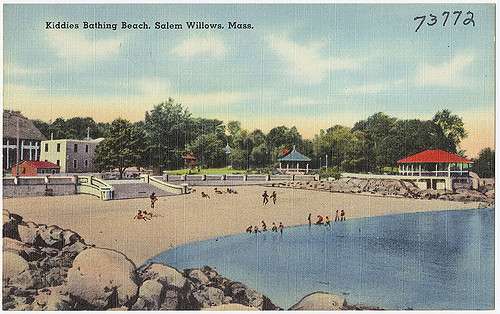 The North Shore inspires a strong sense of nostalgia among those who grew up there. Some say you can't call yourself a native if you haven't had the chop suey sandwich at Salem Willows. Brunonia Barry captured that devotion in her novel the Lace Reader, in which the fictional detective eats chop suey sandwiches at least once a day.
Not everyone likes chop suey sandwiches. "Have you people never tasted Chinese food before?" asked one on-line reviewer. "The chop suey sandwich is literally a slimy beansprout pile on a soggy bun. Oozing tasteless cornstarchy sauce and like one molecule of chicken chopped up in the mix."
Woodman's, famous for its fried clams in nearby Essex, Mass., offers a recipe for making your own chop suey in The Woodmans Restaurant blog.
Photo: Salem Willows Historic District, By Fletcher6 – Own work, CC BY-SA 3.0, https://commons.wikimedia.org/w/index.php?curid=11752323.
This story about chop suey sandwiches was updated in 2021.