When Sara Galner first joined the Saturday Evening Girls Club, she had no idea she'd end up making pottery that sold for thousands of dollars to the rich and famous.
She was a poor Jewish immigrant, born in 1894 in Austria-Hungary. Her family lived in Boston's North End, then a filthy tenement slum with high rates of mortality and murder.
As a young girl, Sara Galner began attending the story hour on Saturday evenings, which the members called the Saturday Evening Girls Club. She thus found herself at the intersection of two late 19th-century social movements: Arts and Crafts and social reform.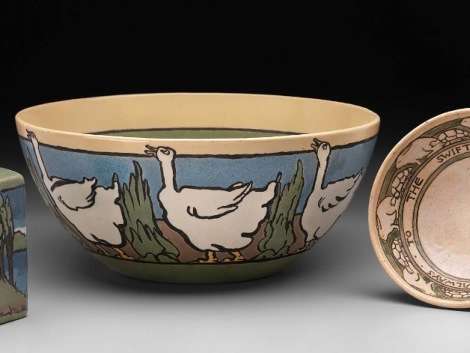 Saturday Evening Girls
The Saturday Evening Girls started in the 1890s with three women. All three wanted to better the lives of young immigrant women by involving them in the arts.
Helen Storrow, a wealthy Boston philanthropist, supported the North Bennet Street Industrial School. A North End trade school, it gave classes to young immigrants in printing, stone carving, woodwork, cement work, sewing and dressmaking.
Storrow befriended some of the girls who attended, taking them to the beach and in some cases paying for their college educations.
She also befriended Edith Guerrier, a librarian and writer who worked at a North End nursery. Guerrier started the Saturday evening story hour, exposing immigrant girls to literature, drama and dance. She added lectures by such prominent Bostonians as Edward Everett Hale, Charles Eliot Norton and social reformer Vida Scudder. 
Shortly after the turn of the century, Guerrier and her partner Edith Brown, an artist, took a trip to Europe – paid for by Helen Storrow. In Britain, they were exposed to the Arts and Crafts movement. Proponents advocated traditional craftsmanship using simple forms and rejected the fussy over-decoration of the Victorian era.
Guerrier and Brown came up with the idea of teaching pottery to the girls so they could make money in a clean and safe environment.
In 1908, Helen Storrow agreed to fund the pottery – a beachhead for the Arts and Crafts movement in the United States. She bought a large townhouse on Hull Street and put a pottery and kiln in the basement. And she named it after the North End's most prominent resident, Paul Revere.
Paul Revere Pottery
The rooms were filled with fresh flowers and light, and the girls listened to music and dramatic reading as they worked. The Saturday Evening Girls also worked an 8-hour day instead of the usual 12, had half Saturdays off and paid vacations.
The girls often resented the condescending attitudes of their benefactors, who came to their fund-raising theatricals. Wealthy Boston philanthropists such as Isabella Stewart Gardner attended their plays, recitals and folk dances.
The girls once acted out by pretending to act stupid and unable to speak English. They thought it was funny, but they infuriated Storrow.
Sara Galner was offered a job making pottery for $4 a week. She turned it down at first because she made more as a dressmaker. She then negotiated a deal where she and the other girls earned $7 a week. Eventually Galner, the most talented ceramic artist, got a raise to $10 a week.
She went on to manage a Paul Revere Pottery shop in Washington, D.C. After a decade of making and selling pottery, she married Morris Bloom and had three children.
Collectibles
The Paul Revere Pottery lasted until 1942. Today, Paul Revere Pottery is among the most collectible Arts and Crafts style ceramics.
Four trivets were auctioned off to actress Penny Marshall for $1,024. A 10-inch vase sold for $3,456. A glazed ceramic fireplace sold for $219,750 in 2013.
Sara Galner never told her children much about her work with the Saturday Evening Girls. She died in 1982.
Her son, David, become a leading radiologist. After he came across his mother's work in a museum, he started collecting Paul Revere Pottery. He eventually donated 130 pieces to the Museum of Fine Arts Boston, which staged an exhibit of Paul Revere Pottery in 2007.
Photo of Helen Storrow By Source, Fair use, https://en.wikipedia.org/w/index.php?curid=98828. This story was updated in 2021.