]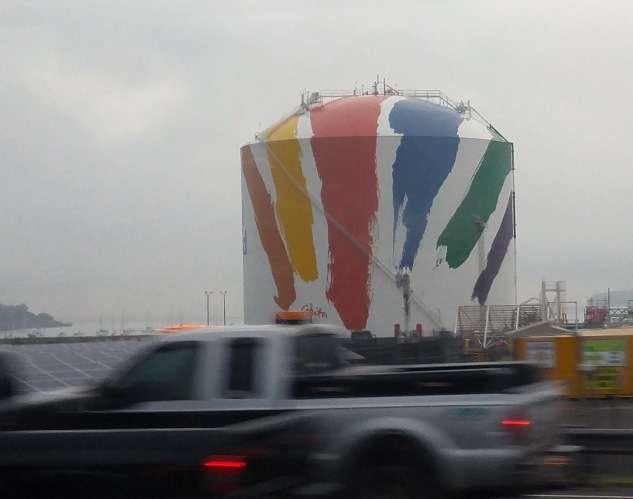 A tiny collectible and a major Boston landmark are two of the most successful works of art created by Corita Kent.
More than 700 million of her 1985 'Love' postage stamps by the U.S. Postal Service. The bright, optimistic design was typical of her work.
The bright rainbow swash on the 150-foot-high LNG storage tanks in Boston's Dorchester neighborhood is not only a visible landmark, it is the largest copyrighted work of art in the world.
Sister Corita Kent
Corita Kent was born Frances Elizabeth Kent Nov. 20, 1918 in Fort Dodge, Iowa, to devout Catholic parents. Just after graduating from high school, she followed her older sister and joined the Roman Catholic order of Sisters of the Immaculate Heart of Mary in Los Angeles. As Sister Mary Corita, she taught art at Immaculate Heart College from 1938 to 1968, eventually heading the department.
At the college she created bold, colorful silkscreen works that incorporated spiritual themes and literary and political writings with product slogans, street signs, and Beatles lyrics. She became known nationally, and in 1967 Newsweek put her on the cover.  Her wide circle of friends included Alfred Hitchcock, John Cage, Saul Bass and Buckminster Fuller.
Sister Mary Corita embraced the reforms of Vatican II, which tried to make Catholicism more accessible. She also became more political with the social unrest of the 1960s and 1970s. He work began to convey messages of peace and love.
Leaving the Sisterhood
She fought cancer and insomnia, as well as the archbishop of Los Angeles, who criticized her liberal views.
In 1968, Kent took a sabbatical on Cape Cod, during which she decided to leave the sisterhood. Se moved to Boston, where she pursued her art career and designed the rainbow swash.
A controversy erupted over the blue swash, which was said to contain the profile of Ho Chi Minh. Kent was known as a peace activist, but she denied painting the Vietnamese leader. In 1992 the Rainbow Swash tank was torn down and the Swash was reproduced on the adjacent tank – over the objections of veterans' groups.
In 1985, the year before she died, Corita Kent designed the famous Love stamp. Since then, critics and curators have elevated her work to that of such Pop artists as Andy Warhol and Robert Rauschenberg. Several recent exhibits celebrate her work.
Photo of Corita Kent: By Source, Fair use, https://en.wikipedia.org/w/index.php?curid=34748779